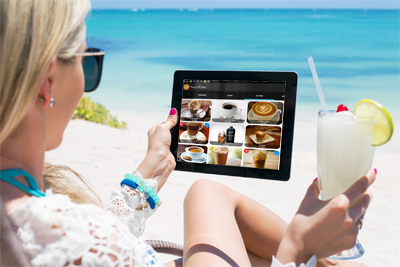 The intensive retail solution concerns businesses such as Restaurants, Bar, Fast Food, Café, Confectioneries, Snack Bar, Taverns, Beach Bar, etc.

We provide a complete solution to combine the software with the appropriate equipment. The integrated system is designed according to the needs and requirements of the catering area and is adapted to the way the business operates, however special and complex it is.
The choice of applications and equipment used depends on the degree of computerization and the scope of tracking that the individual operator wants to have.

The increased capabilities of the system provide a wealth of benefits to both operators and the Company.
 It is achieved
Complete tracking of species movement, from production to consumption in every form (sale, free disposal, treat, destruction, self-consumption).
Reduction of order picking and order execution time.
Avoid mistakes made at peak hours or due to inadequate training.
Increase staff productivity.
Rapid depreciation of investment costs.
In addition, the choice of state-of-the-art equipment makes for a great image of the business.
The system supports 1 workspace to manage / monitor the focus area as a complex multi-workstation network.
Supports wireless portable terminals, Win devices, and even fixed touch screens to receive an order. Wireless devices act as network terminals, have a color-illuminated touchscreen, are easy to use and have a range of 50 to 500 meters, with the ability to cover even the most peculiar space.
The program includes:
 
Immediate and fast customer service
Credit card management
Receiving and managing orders from remote store areas (garden, floor, loft, lounge, beach, etc.)
Managing recipes, portions, raw materials and costing by quantity and value of participation. Recycling of raw materials.
Take a table from one table to another with a charge on the first.
Order check, controlled gradual delivery of items, table pending, account display and account request from the portable wireless terminal.
Product specifics, stable and diversified species with the ability to modify their recipe.
Flexible design of pages and footers according to customer requirements.
Full product description in the menu. (No memorization of codes is required.)
Quick and easy menu / warehouse update.
Unlimited number of items and tables.
Keeping customer and warehouse records.
Two-way communication between portable terminals and the server.
Security codes for each waiter. Each wireless device accepts more than one user.
Full order tracking (executable and non-executable)
Separation / printing of orders at multiple production points (without prices) and printing of the total order in the central fund.
Total printing of the order at the cashier (with prices) and the ability to modify / cancel an order or items at any time.
Print all necessary documents.
Issue a receipt for part of the order during the step-by-step delivery.
Stocks of warehouses with security limits, stock.
Full statistics directly usable. Statistical prints of all kinds (customer consumption, waiter's turnover, table turnover, table repeatability, totals / value of waxes, self consumption, etc.)
Various payment methods - Payments and credit cards with daily collections (cash - cards).
Instant information about offers and promotions
Campaign Management
Bulk SMS service for bids
 
Request the Special Offer for Wireless Ordering System now.
Fill in your details in the form below and you will have a complete update and offer in just a few hours.